ABOUT FIREWORKS WEBSITES
Fireworks Websites
ABN 25 162 061 869
Office: Suite 7, 36 Leonard Crescent, Brendale 4500 QLD Australia
Fireworks® began in 2003 as a group of creative professionals who design and create a variety of marketing media to boost your business image. We have a large client base Australia wide who we serve directly. We also perform contract work for a number of partnering businesses and larger marketing firms. All of our production work is carried out by in-house professionals with experience and qualifications. We focus on creativity and delivering projects within allocated budgets to deadlines. We specialize in website design and online database systems.
At Fireworks, we love what we do and we're confident that you'll love what we do too. The team at Fireworks are committed to providing high quality marketing media. Our core belief is to communicate directly and efficiently. Our wide range of knowledge, experience and skills ensure that your business receives consistent and integrated media.
MEET OUR TEAM
North Brisbane Office - 36 Leonard Cresc, Brendale QLD

Tom Young
Branch Manager / IT Manager Direct Line: (07) 3481 8805

Dip. IT
Tom is our resident technical support specialist with extensive experience in the IT realm since 2002. Tom also works on project development with clients.

Sheldyn Dixon
South Brisbane Branch Manager

B. ICT (hons) Adv Dip. Marketing
Since Fireworks began in 2003 Sheldyn has been the driving force behind the growth of the company as both a manager and project developer. Sheldyn's background is in marketing and multimedia development.

Richard Attard
Website Developer Direct Line: (07) 3481 8810

Dip. Graphic Design
Since 2005 Ricky has been working in the website and graphic design industry. His years of experience with design, accompanied by his current passion for programming and databases equips him with the two essential skills to successfully manage and produce website projects from start to finish.

Michael Esteves
Website Developer Direct Line: (07) 3481 8801

Bachelor of Applied Multimedia
Since 2004 Michael has been involved with many online multimedia projects. Michael shares a great knowledge of online design as well as programming.

Matthew Dobinson
Website Developer Direct Line: (07) 3481 8806

Dip. IT
Matt is our programming genius. Since 2001 Matt has had hands on experience with hundreds of projects and their related technologies / programming.

Lynda Stepanovsky
Accounts and Administration Manager Direct Line: 07 3481 8885


Lynda is Firework's Administration and Accounts Manager. Her many years of experience in office management, combined with qualifications in Project Management, Web Development and Accounting enables her to keep Fireworks busy Accounts Department in check!

Leighton Kuchel
Website Developer Direct Line: (07) 3481 8804

Bach. Visual Media
Leighton has worked on a variety of design projects across industries such as engineering, drafting, visual media and web design. His passion is in website development for commercial application.

Josh Marshall
Website Developer Direct Line: 07 3481 8808

RHCE
Joshua is a hard-working, lateral thinking person who enjoys furthering himself by keeping abreast of latest technologies and implementing these in a dependable fashion. After programming for many years he settled on specialising in PHP/MySQL for the back-end and XHTML/CSS/JQuery on the front-end.

Jordan Dixon
Junior Website Developer Direct Line: (07) 3481 8802

Dip. IT Cert III Multimedia
Jordan's background is in graphic design for websites and print media. Jordan has a solid grounding in PHP and MySQL programming for custom or CMS based website projects.

Jamie Hales
Marketing Manager Direct Line: (07) 3481 8809

Google Accredited Online Marketing Specialist
Jamie has a wide range of experience in copy writing, marketing, SEO and Google adwords marketing strategies. Jamie provides ongoing marketing advice and plans to clients in a wide range of industries.

Glenn Kentwell
Website Developer Direct Line: 0734818807

Bach. Information Technology
With over 10 years developing in ASP and PHP environments, Glenn has a wealth of knowledge and experience when it comes to developing websites, online systems and applications. He has worked on a wide variety of projects across a spectrum of industries.

Alex Bell
Junior SEO Manager


Alex is a junior SEO Manager with a can-do attitude. He is currently in training, learning the ins and out of SEO and linkbuilding.

Addison Dixon
SEO Manager

Dip. Business, Cert III in IT
Addison is our Google guru. Since 2009 he has been caring for SEO (search engine optimisation) campaigns on Google, Yahoo and Bing.

South Brisbane Office - 1311 Ipswich Road, Rocklea QLD

Michael Morgan
Website Developer Direct Line: 0450923007

Bachelor Of Multimedia
Since 2011 Michael has worked on many programming projects including online ordering systems and custom built websites. Michaels balance of creative design and technical programming skills make him the ideal candidate to take on any custom development project.

Dave Harvey
Website Developer Direct Line: (07) 3481 8810

Cert III Information Technology
Since 2008 Dave has worked on a range of interesting technology projects include development of website interface systems, database application design and cross platform technology integration. His wide range of skills enable him to take on projects that others might shy away from.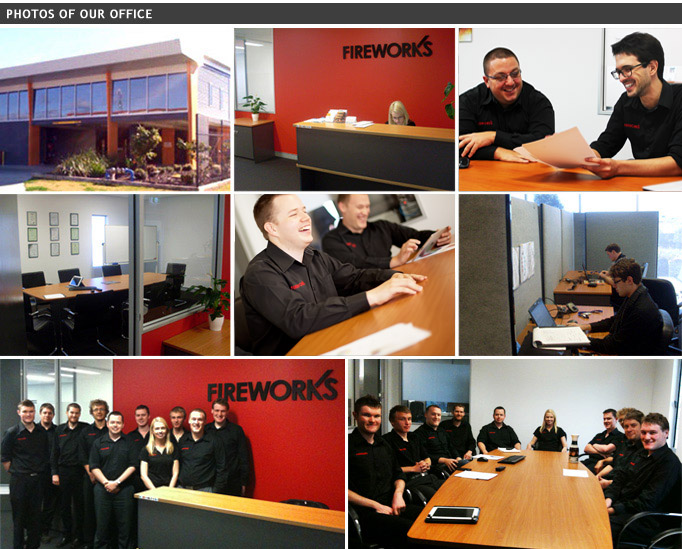 Fireworks is a certified Google adwords partner. At Fireworks our staff have exclusive access to Google's systems and features which we use on your behalf.
Mission Statement
To be the company that best understands websites, online marketing and the needs of our clients within our fast changing global environment.
Vision & Values
We aim to be a leading provider of website development and online marketing by nurturing the following values within our company:
• Friendly, professional and prompt communication with clients and business partners.
• An ongoing pursuit to remain current with trends and developments.
• Staff education and training of the highest calibre.
• Using innovative technology, efficient processes and effective systems.
• Keeping our customers informed and educated in a changing marketing environment.
• Excellence in production quality and customer satisfaction.
• Long term relationships with clients and partners through which we become intimately familiar with their businesses.
• Providing professional, expert and affordable online marketing solutions.
• Focusing on the needs of our clients and business partners, providing customised solutions to their requirements.
• Honesty & integrity in our dealings with others.
• Profiting from practises that are sustainable, ethical and satisfying to our clients.
• Maintaining a great work place where people are inspired to be the best they can be.